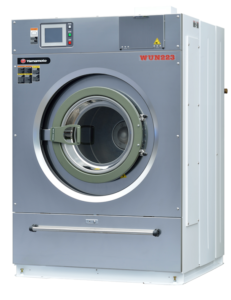 Experience the reliability of the "THE FOREVER MACHINE" – professional large commercial washer for today's on premise laundry operations (OPL). With up to 120 wash program choices available, the flexibility to do any job is at your fingertips. The ease of access and simplification of mechanical parts, scheduled maintenance is easy and does not require an engineering degree. Touch screen control, fully balanced drum, and high-quality Stainless Steel materials mean amazing profits for the operator.
5 Year Parts & Labor Warranty
The perfect washer for hotels, motels, nursing homes, linen service, or high capacity rapid production is required.
Touch Screen, sequencing controller, catering to all industries, can store 100 Wash Formulas, easy to follow programming.
Equipped for 8 Chemicals, easy access to signal outputs and injection ports.
"Premium Efficiency Motor & Inverter Control" allowing for delicate mechanical action, the drum rotation speed can speed can be changed by I rpm and the rotation time by I second.
"10 Water Level Settings"
Allowing for total control over water usage and optimum mechanical action when washing and rinsing. Water Levels can set when processing partial loads for best quality.