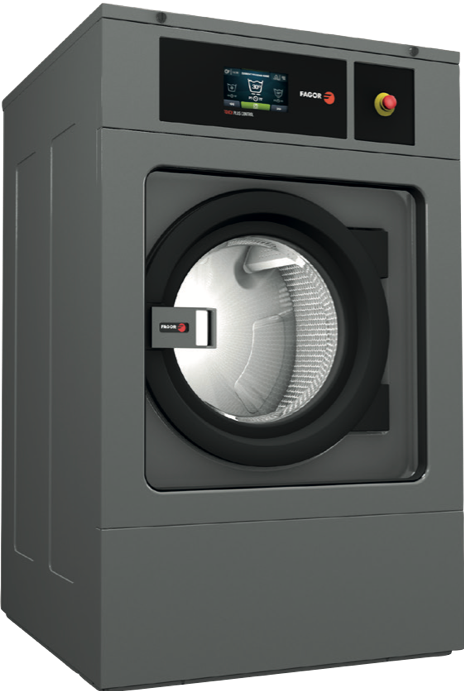 TP SERIES 350-450-G Commercial Washer-Extractor
25LB - 30LB - 40LB - 60LB - 80LB - 100LB - 135LB - 275LB
350 G-Force to 450 G-Force
This new generation of washers combines the latest technology with the best quality in components and materials. They are equipped with the most advanced technology in water and energy saving systems, as well as the WET CLEANING feature. Its user friendly and intuitive programming makes them suitable for all types of laundries, dry- cleaners, self-service and commercial or industrial laundries, hospitals and nursery homes.
Download Spec Sheets 25 - 30 - 40
Download Spec Sheets 60 - 80
Download Spec Sheets 100 - 135 - 275
The latest features and technology at your service:
Stainless Steel Design
Efficient Mix
Balance
Touch Plus Control
Multi-Choice Inlet
Wet Cleaning
Maint Care
Optimized Drum
Powerful Flexible "Control your Budget"
The laundry operator can easily program, retrieve data and create wash cycle reports through USB and laptop PC. A simple access to data bank and easy programming the TP control helps save time and ensures the correct laundry process. Troubleshooting friendly.
Built to Last Ergonomic Door System
Loading and unloading are fast and easy through the oversized ergonomic door system that opens 180 degrees. No more wasted time due to door lock error codes. Fagor maintained your laundry business running at a full productivity.
User friendly Tilting System
The optimized & friendly tilting system make your laundry operation more efficient, assist the operator in the loading & unloading process & increasing production .
Quality Construction and Durability
Rugged frame design offers excellent strength and stability for better performance. Washer feature inner, outer cylinder, front and side panels of durable stainless steel. Oversize bearings and housing assure superior quality & longevity over the life time of the washer.
Unit
FWH 25 TP2
DRUM
Load Capacity 1:9 / 1:10
LB
24/22
Volume
Cu. Ft
3.5
Depth
In
20.9
Diameter
In
16.73
General Data
Wash speed / Spin speed
r.p.m
50/1231
G Force
-
450
Double Drain
No
Weighing System
Optional
SLUICE OPTION
N/A
DOOR
Height door centre
In
24.8/14.56
Diameter
In
14.68
POWER
Motor
Hp
1
Heating elec. Mod.
kW
8
Max. Electric Power
kW
8.4
Max Steam & Hote Water power
kW
1
Connections
Electric
Steam/Hot Water
Voltage 230V – I + N
N° x mm² / A
3x4 – 32 A
3x1.5 – 6 A
Voltage 230V – III
N° x mm² / A
4x2.5 – 20 A
N/A
Voltage 400V – III + N
N° x mm² / A
5x1.5 – 10 A
N/A
Steam Inlet
Inch
½"
Maximum Steam Consumption
Lbs/hr
18.8
Water inlet
Inch
¾"
Grid Pressure
Kg/cm²
2-4
Max water consumption *
Gal/hr
18.86
Drain
Inch
3"
Drain Capacity
Gal/min
52.8
Dimensions/ With Packaging
Width / Width
Inch
27.24/28.74
Depth / Depth
Inch
31/39.37
Height / Height
Inch
46.65/55.78
Net Weight / Gross Weight
Inch
507/526
Gross Volume (with packing)
Ft3
37.8